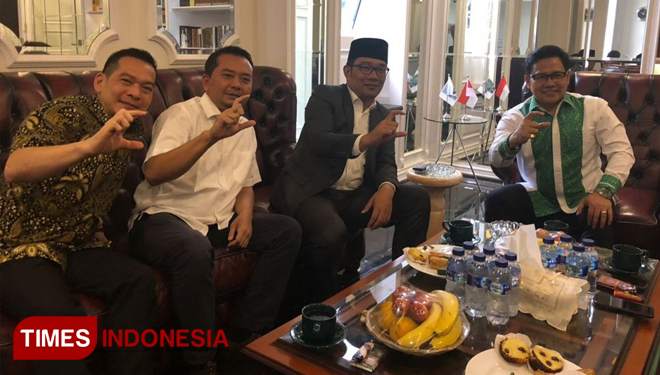 TIMESINDONESIA, JAKARTA – The winner of the election of West Java governor version of several Quick Count institutions , Ridwan Kamil claimed to be ready to be fully support the candidate pair Jokowi-Muhaimin (JOIN) in 2019 presidential election later.
"Today I declare the attitude to the 2019 presidential election with all out support Jokowi-Cak Imin or JOIN," said Kang Emil at the office of DPP PKB, Raden Saleh street , Jakarta on Wednesday (4/7/2018).
The former of Bandung Mayor also revealed his reason supporting Jokowi in 2019, according to him it is because Jokowi's performance in the first period has been proven by the fertile of infrastructure development in the country, one of which is infrastructure development in West Java.
Meanwhile, the figure of Muhaimin Iskandar (Cak Imin), said Kang Emil, cadres Nahdlatul Ulama was no doubt his work in the political world. Moreover, Cak Imin also gets the blessing of kiai and ulama in the region of the archipelago.
"Let us together build this country for the better in the future. Do not be lulled by dazzling promises. Choose only the proven bibit, bebet, and bobot, "he explained.
As we know, in the Election of West Java, Ridwan Kamil was in pair with Uu Ruzhanul Ulum.
The pair candidate was promoted by PKB, PPP, Hanura, and Nasdem Party.
In this case, untill wednesday morning, at 10.00 am, the pair of candidate is ahead 33.01 percent with the number of votes reached 96.82 percent, defeating Sudrajat-Syaikhu with the acquisition of 28.47 percent. (*)