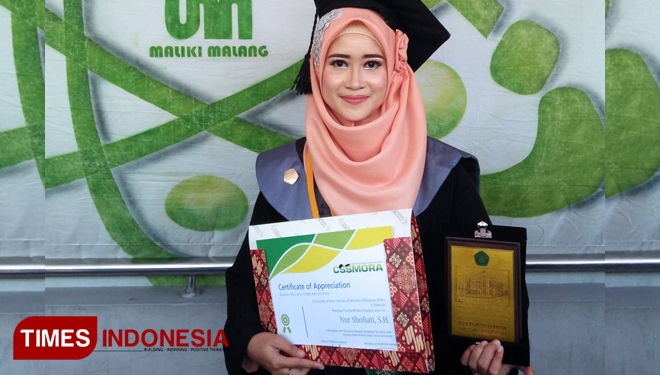 TIMESINDONESIA, MALANG – Maulana Malik Ibrahim State Islamic University (UIN) Malang, held the 2nd period of Graduation event, Saturday (08/25/2018).
The event mentioned several graduation categories, including the best graduate, and hafidzah 30 juz graduates.
One of the hafiz 30 juz graduates and having an achievement is Nur Shofiati. She was born in Tuban, March 3, 1996, graduated from the Sharia Business Law. She became a graduate who is memorizing Quran (Hafidzah) when she was graduating from university.
She isn't only hafidzah 30 juz, but she is also beautiful and smart. It is evidently from her Index Achievement Commulative which is Cumlaude 3.96.
It isn't only from her cumlaude, she also practiced fieldwork at the UITM of Malaysian Malacca. Nur (her nick name) also conducted research for her thesis in Malaysia. Until she decided to take the title of her thesis "The Policy on Zakat as Income tax education in Indonesia and Malaysia".
So, it isn't reason, Nur took that title of the thesis because she took the title of the thesis together with the preparation of fieldwork (PKL) in UITM Malaysia.
In addition, she also included the Community of Santri Scholars of Ministry of Religious Affairs (CSSMORA) which is a family organization. CSSMORA consists of a group of students (santri) who get the same rights to be able to continue their studies at state universities (PTN) through scholarships from the Ministry of Religion.
The daily life of this 22 years old girl doesn't only study at university, but also studies at Griya Tahfidz Alquran Krakatau. So, she is able to complete the Alquran memorization 30 juz when she graduated from the university.
Her enthusiasm in memorizing the Quran is motivated solely for the happiness of her parents, who have given full support to memorize the Qur'an.
She was grateful for her achievements during her sudy at UIN Malang. She hopes that all of her knowledge can be useful for many people later. (*)