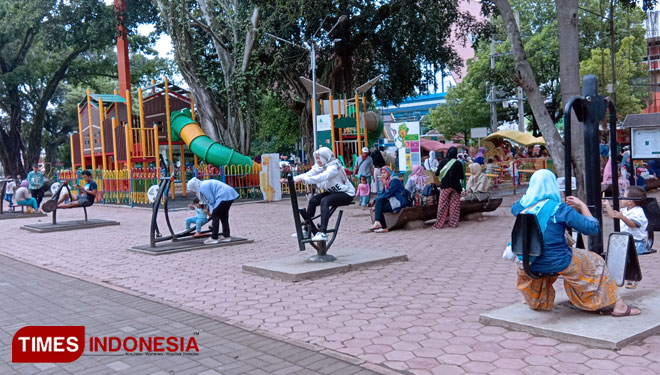 TIMESINDONESIA, MALANG – The Malang Central Park or well known as Alun – Alun Malang is a green interesting park and has become a popular hang out place for all Malang societies. Not only that even some local and international tourist visit the park as well.
In this park we can find a beautiful fountain and lots of shade to rest. For those who like to burn their calories, the local government also provide some free fitness equipments.
There are five fitness equipments provided by the local government. All of them put solidly stick through the ground.
As any other fitness equipments that we know, those fitness equipments provided at the park also has a similar functions.
These equipments could be use by anyone, the olders, adults and even kids under their parents supervision.
These equipments has become one of the park attraction. People mostly will willingly try and use these free equipments.
Mr. Ubet is one of the park visitor we found using the equipment said, he loves to come here when he wanted to do some exercise.
"I love to come here whenever I want to have some exercise and do some fitness training. The place is so comfy and the most important thing is the fitness equipments are free," he said after doing his exercise at Alun – Alun Malang, Thursday (17/18/2019). (*)