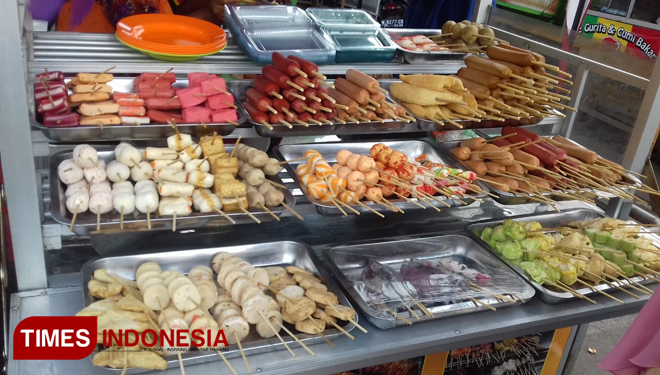 TIMESINDONESIA, BATU – To complete its character as tourism city, Batu, which is located in East Java offers any kinds of culinary menu, including satay millenial. This food is able to find at the town square of Batu especially in the afternoon. In addition, you can also find out the other type of foods here.
The aroma of satay millenial definitely tempts you if you walk around to the west side area of the Batu Town square, it is exactly near the parking area.
Satay millennial is almost the same as the other satay in general. However, satay millennial stabbed with a large skewer. Moreover, the millennial satay is sold in any various types of seafood, such as snapper, squid, crabs, shrimp, and tuna. There are also chicken sausages, beef sausages and many more.
The buyer just has to choose what satay he wants, and the seller will burn it. The price of each skewer is varied. Starting from IDR 10,000 to IDR 15,000 only.
"Besides being unique, it tastes good, the price is also affordable, so if passed by here, I stop by to buy these snacks," said Tia, a buyer of satay millennial.
Savory flavors combined with various spices, make this satay favored by various ages.
So, enjoying the exotic of the Batu town square will be incomplete before tasting a millennial satay, due to the taste is positively delicious. (*)