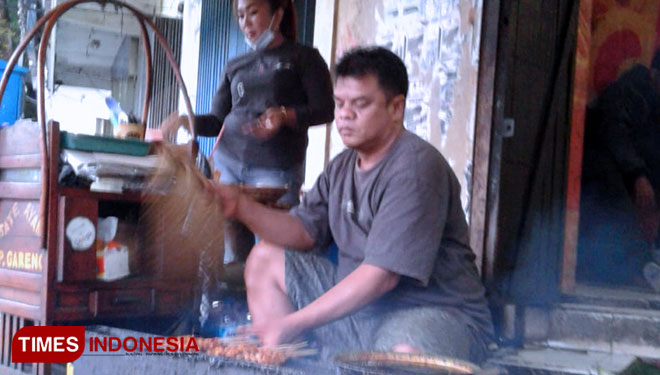 TIMESINDONESIA, PONOROGO – Chicken satay or sate ayam has become a trade mark for Ponorogo. Their satay has been well known by the world's cullinary lovers. Sate ayam Pak Gareng at Ruko Ngepos is one satay outlet which will take you to taste the delicious satay ayam.
"I inherit this outlet from my father.
And my father got the recipe from my grand father. My granddad sold the satay on the street by carrying two baskets of satay and the equipments on his shoulder since 1970, and it cost only IDR 1,8 K per set," Darmawan the owner of Pak Gareng satay outlet said.
As the time goes by, they started their business at the shop house in Ngepos on 2006. At that time a set of sate ayam will cost around IDR 8 K.
By the time flows, this outlet now has been known by the local citizens especially Ponorogo. Lots of people coming especially those who crossing the street and happen to be around the outlet.
You could get get the chicken satay or sate ayam Pak Gareng Ponorogo for IDR 20 K per set. This satay outlet will surely take you to taste the authentic and delicious flavour of Indonesian famous satay. (*)