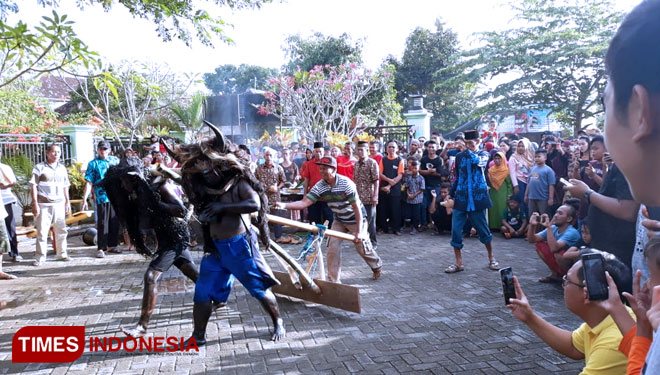 TIMESINDONESIA, BANYUWANGI – A beautiful old tradition from Watukebo Banyuwangi had just been held again on Sunday, 16th June 2019. This unique tradition which namely known as Kebo-Keboan (bull impersonification) is a local tradition which held annually by the village as their gratitude to the lord.
Thus tradition believed by the local community could cast away the baf spirit around the varea and protect them from the bad things happened. And since most of the villagers are farmer, they also believe that this tradition could give them a massive yields.
"This tradition has a high value in each of the act performed. This tradition implies the name of the village it self the Watukebo (Frozen bull)," Syahrin a local culturar bearer said.
According to his story, once upon a time, a princess from Bali asked around 44 bulls (kebo) as a gift for her engagement by the king of Majapahit at that time. One of the bull was so lazy to walk and just sit over the street. There then, Tiki Siem as the shepherd curse the bull in to a stone (watu). There the name of the village was taken, Watukebo (Frozen bull).
On this occasion the local community will start the tradition by village March after the sunset followed by reciting some Quran and visiting some tombs of their ancestor, and the visit ehat they believe as the frozen bull stone. And ended by a traditional feast next to those places.
In the mean time, this kebo-keboan tradition from Watukebo, Banyuwangi to be last forever and will have more attention from the local citizen and the government as to preserve the local culture. (*)