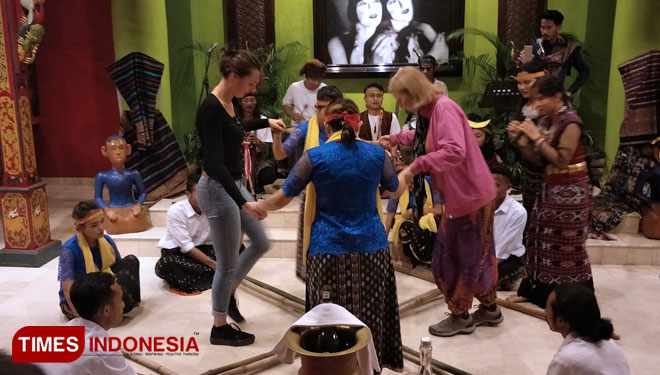 TIMESINDONESIA, MALANG – An exotic music from the East Nusa Tenggara had just performed at the Hotel Tugu or the Tugu Hotel Malang on Monday (15/7/2019). This music performance was named as the Senandung Merdu dari Timor and performed at the 43rd Indonesia's Culture Dining Series.
A group of youngster named themselves as the M2I Dawai from the Museum Musik Indonesia managed to get som much attention from all the customers. Lots of customers from the domestic and foreign country came to the hotel to watch their performances.
Rangkuk Alu, some music which was followed by a traditional game performed by 8 childrens took the audience breath at that night. 4 boys holding some bamboo and makes some music from it surrounding by the 4 girls which dance upon the bamboo make the night more energetic.
Lots of foreigner asked to be taught on how to dance the Rangkuk Alu after the event finished. They even danced when the kids sang the Gemu Fa Mi Re for them.
Some music instrument from East Nusa Tenggara like Dungga, Karinding, Tembong, Okulele, Sunding, Tatong were also played on that night. The 43rd Indonesia's Culture Dining Series at the Hotel Tugu or Tugu Hotel Malang had given another light to the hotel that night.