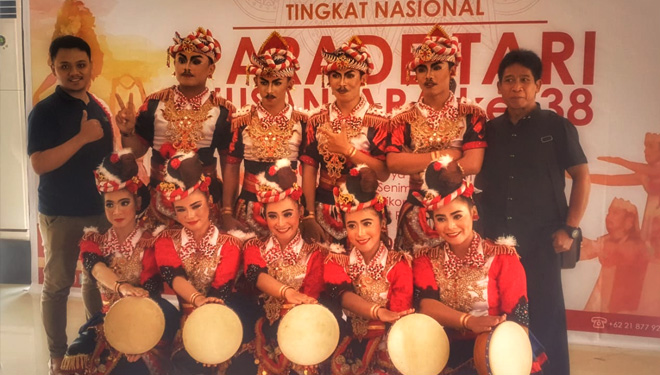 TIMESINDONESIA, BLITAR – The Porem Bulkiyo dance if Blitar managed to bring 4 awards back to their city at the 38th Parade Tari Nusantara (National Dance Parade) which was held in Taman Mini Indonesia Indah (TMII) East Jakarta on Saturday (10/8/2019).
"We got four achievement at a time on this occasion, those are the top-notch writing, top makeup and fashion designers, top performers, and the best yells," The Head of Tourism, Culture, Youth and Sports of Blitar, Hartono said on Sunday (12/8/2019).
The parade which was held on Saturday (10/8/2019) was followed by 23 participants from around corner of the country. This parade is well known as one of top dance competition in Indonesia.
This event was aimed to motivate all the artist especially dancer and the choreographer to be more creative and innovative to present their dance. This event was also become palace to share some of new choreography and skills.
On the occasion, the Porem Bulkiyo dance showed agreat harmony between the dancers. The music was arranged by Sudarwiyanto and Novita Mijil Purwana and Dimas Anggoro Putro as the choreographer made this dance of Blitr nominated as the best dance in Parade Tari Nusantara (National Dance Parade). (*)