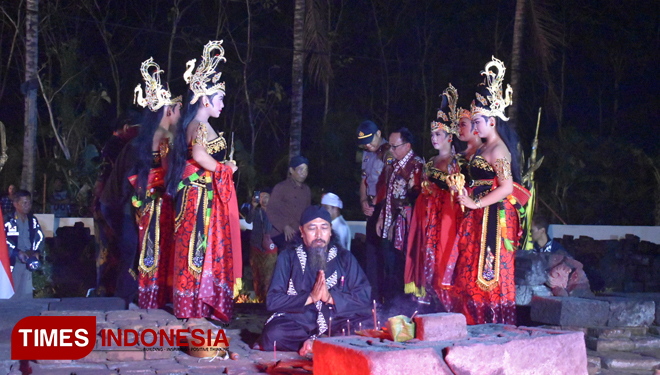 TIMESINDONESIA, BLITAR – There was an interesting ritual at the end of the Getih Getah Gula Klapa festival of Blitar. A cultural bearer accompanied by 4 beautiful girls repelling something, no it's not a spell, it's their way of praying in their local language.
The festival which was held at Simping Temple Blitar on Sunday (17/11/2019) got much attention from every audience from the very beginning to the end of the Festival.
A cultural bearer with his unique costumes and cool appearance lead the pray accompanied by 4 lovely girls which they call as the four angels before ending the festival.
The pray was delivered in the Javanese language and Bahasa. It would sounded like a shaman repelling his voodo charm, but it's not. "It says that we hope this country will be blessed and given more peace," The Project Manager of Getih Getah Gula Klapa Rahmanto Adi said.
This exotic way of praying then followed by singing the Indonesia Pusaka as one of national song of Indonesia with a group band playing the music to accompany them to end the Getih Getah Gula Klapa of Blitar. (*)