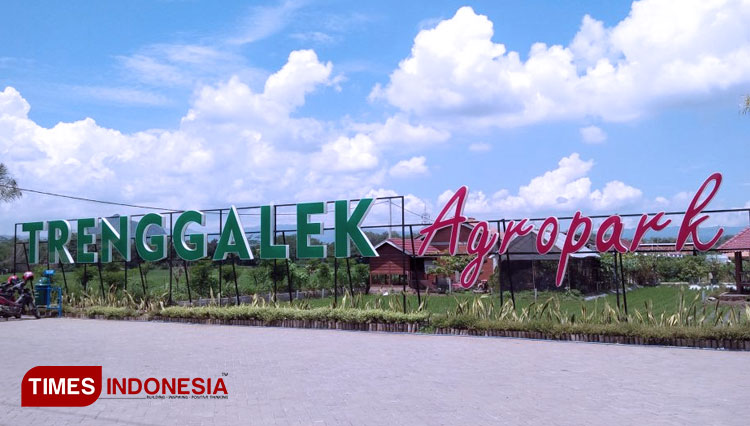 TIMESINDONESIA, TRENGGALEK – Trenggalek Agropark is an educational facility in agriculture and farming developed by the Government of Trenggalek.
This place is nestled in the center of the city, in Jalan Sukarno Hatta, Ngantru, to be exact.
"Since the beginning, Agropark has been applying integrated farming system without any external factors," said Hernawan Widyatmoko, the Plant Coach.
The system is implemented by cultivating the crops that can be used for the animal feed. Next, the waste product of the animals is used as a natural fertilizer. All of the processes take place in the area of Trenggalek Agropark.
The Regent of Trenggalek, H. Mochamad Nur Arifin, makes Trenggalek Agropark as the prototype of the healthy agriculture center. This program is in synergy with the program called 'Trenggalekku Organik'.
This integrated farming system has been prepared since 2016. In 2017, they began to arrange the plants and the circulation. In 2018, Tugu Pranata Mangsa was built, and in 2019, they built Trenggalek Agropark building.
There are two types of plants in this place, crops and horticultural crops.
The plants cultivated in Trenggalek are several varieties of rice. The rice plants are planted using various method, such as Jajar Legawa (planting rice in straight rows at certain intervals), Salibu (repeated harvesting), and Hazton cultivating method.
The horticultural plants consist of chilies, mustard, water pumpkin, Oyong (Chinese okra), cauliflower, okra, and fruit trees in pots. Meanwhile in the farm, they have goats and cows.
"Trenggalek Agropark is an enlightenment as well as the improvement on agriculture and farming. In other words, we want to get back to the organic method and pay attention to the local wisdom," Hernawan said. (*)